Asphalt Shingles Roofing Materials Australia
Asphalt Shingles Roofing Materials Company has the most extensive range of American asphalt shingles roofing materials in Australia, with 30 years to LIFETIME manufacturers warranties. There are roofing shingles that resemble the natural beauty of slate and wooden or shakes.  A shingle roof is long-lasting with pricing that will suit most roofing or wall cladding applications. To see what our complete range of IKO asphalt shingles roofing material will look like on your house try our new Shingle Roofing Option Viewer Tool.
Asphalt Shingles Roof Supplies – Benefits of a Shingle System
Very cost-effective roofing materials.
Natural slate looking roofing options.
We stock Wooden shingle/shake looking asphalt roof shingles.
We have a large variety of natural colours.
Long manufacturers warranty's up to 40 years.
New roofing options.
Replacement of metal or tiles.
D.I.Y roof supplies in Australia – FREE measure and quotes.
Home Roof Material Options
Gazebo Kits – Pergola Roofing Kits – Patios – Bali Huts – Outdoor Gazebos – Sheds – Garden Gazebo – Garages
Suitable for 'Low Slope' pitches above 8.5 degrees.
Very quiet
We supply a fully insulated roof material.
Shingle system provides a ventilated attic space.
Suitable for wall cladding applications.
Very lightweight roof material – Saving on building costs and freight costs.
DIY Roofing Materials & Shingle Roof Systems
As a DIY roofing material, the asphalt shingle system is hard to beat. A standard size gazebo roof is a weekend job, due to the easy installation process. Only standard tools needed are in most backyard sheds, and the savings can be considerable. Our light-weight roofing supplies are sent around Australia cheaply and easily.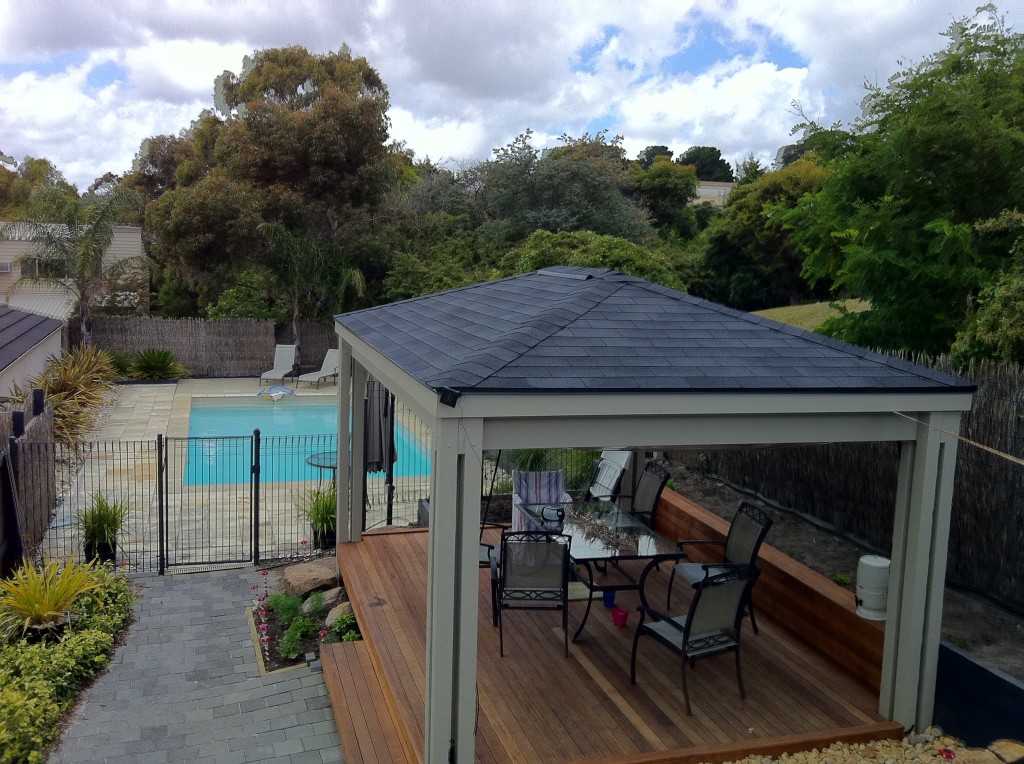 IKO Shingle Roofing Materials | Worldwide Market Leaders
We are the Australian importers and suppliers of IKO's full range of roof materials. IKO is the largest shingle roof material exporter Worldwide and is often rated the best shingles available.  IKO's range of asphalt shingles has an extra thick fibre-glass mat, heavier bitumen coating and tightly packed mineral granules all combining to produce class-leading shingle products. Having completed hundreds of projects over the last eight years, we are industry leaders in roof construction with asphalt shingles systems.
Replace Bali hut thatched gazebos or aging pergolas with our attractive, worry-free and long-lasting asphalt shingles

Asphalt shingles roof materials will complement most pitched residential designs, from modern Architectural to classic. Our shingle systems can be applied as cladding on vertical walls and down to a low 8.5 degrees pitch.

Cambridge Shingle Melbourne, Australia

Asphalt shingles are a stylish and practical roofing alternative. Complementing most home designs, asphalt roof shingles are a sound choice of roofing material.

Marathon Asphalt Shingles

Call your asphalt roof shingles roofing materials experts for some advice or to arrange a quote.