Welcome back to the DIY Asphalt Shingle roofing guide Part 3.
CAUTION: "These instructions are for IKO asphalt roofing shingles only. Other asphalt shingle manufacturers may have different guidelines."
Cutting 90mm off the first piece of asphalt shingle starter course
We cut 90mm off the first piece of the starter course.  This cutout stops the joins lining up on the starter and first courses of asphalt roof shingles.
Now we bring the first piece of starter course just past the hip line of the roof, making sure we line it up on the chalk line.  Make sure that the adhesive glue strip is on the bottom edge as this seals down the first full asphalt roof shingle and nail twice to hold in place.
Follow this chalk line nailing down the starter course.  The pieces of starter course should but up close together.
Now find a join in the starter course near the centre "middle" of the roof. Hammer 2 nails 165mm apart on either side of the cut-out.  This is half a tab apart and is used to align the shingles vertically.
Now you can use a full asphalt roof shingle to mark a vertical line up the roof.  On a small Gazebo, this is adequate, and if you are building something more significant, it is advisable to find the exact 90° angle as a small mistake will show over a distance.  Climb up the roof and snap the first vertical chalk line.  Now measure 165mm and hit another nail at this point.  Snap a second chalk line, and you now have a great guide to line up your shingles.
Now that you have your two vertical chalk lines at 165mm apart, you are ready to install the main asphalt roof shingle part of the roof.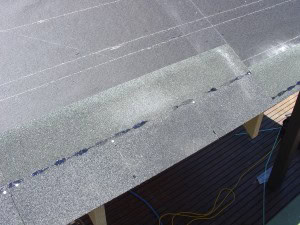 Click here to go to the Garage roofing install guide part 4